Well that farmer must have seen my sister coming..new city slicker that purchased a hobby farm. His wife expressed interest in helping my sister out when she stated she was interested in perhaps getting chickens aka egg laying hens.

Farmer called and and said he had 4 of them for her...Banty's aka Bantham chickens...except they weren't hens..but roosters. My sister wasn't expecting 4 roosters..(just a few months old and not fighting as they were brothers) Although that may change won't it?

What does she feed them? Will introducing hens cause them to fight?

Nope she won't return them as the farmer said he had too many and would probably kill them. Yikes! That scoundrel..even city slickers know roosters don't lay eggs...
Easter Bunnies do...silly farmer!

Would really love to hear from people experienced with Bantams.

Marianne
Hi Marianne - we had many chickens and poultry over the years. Our kids showed them in 4-H. (I can even tell you how to bathe chickens and prepare them for the show ring!
)

The roosters will probably be OK together if you don't add hens to the mix. If you add hens they will most likely start pecking and fighting. You may be able to get away with keeping them seperate from the hens.

You can put one in with the hens and leave the rest in a different pen- if you want chicks!

Food - the easiest is chicken food, it is a crumbled pellet. They are either starter, or grower. Starter is the higher protein for younger birds. Then you switch to grower. There are also feeds called "scratch feeds" that are a mixture of little grains. They are usually fairly low in protein.

So what breed are they? Bantam refers to the size - there are many breeds of bantam chickens. They are like the miniatures of the standard breeds of chickens. They make good pets and yard birds... unless you have a min pin with a high prey drive.
Seeing Dino went to live with my son (he is his dog), Todd keeps threatening to get chickens again!
Hi,

Apologies for not responding sooner to this post. Thanks for the info! I passed it along to my sister and she gave me these pics of her very cute boys.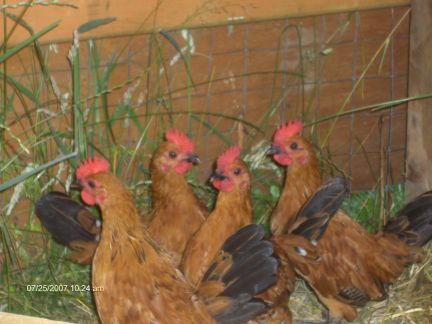 Another question - What kinds of fruits and veggies can you give them and how often besides their feed? Hers love cherries.
Thanks again!

Marianne
Hope she plans on being an early riser!!!!!!!!!!!!!!!!

My old neighbors had banty roosters and the little buggers would start crowing long before the sun even thought of coming up. They were brown and black like yours and MEAN MEAN MEAN.
are they good eats????



Darcy wrote:
are they good eats????



"Taste just like chicken!"



Maggie McGee IV wrote:



Darcy wrote:
are they good eats????



"Taste just like chicken!"


ROTFLMAO



Maggie McGee IV wrote:



Darcy wrote:
are they good eats????



"Taste just like chicken!"



ROFLMAO
Banty Rooster...the first thing that comes to mind is a man I used to date...my Mom called him that little Banty Rooster cause he used to strut around and act like he was the "man"...
tee, hee...
Sorry, I'm no help, but I couldn't resist...
Marianne -
They look like Mille Fleur's to me. We actually raised them! They are real nice birds, not very aggressive. We had many kinds, and these were our favorites that we focused on. The hens have more white spots - hence the name. They look like millions of little flowers. The roosters have less spots, but still some.
With poor breeding, they lose the white spots. Our 1st ones were lower quality, but them we got a better line with the proper amt of "flowers". I hope your sister enjoys them.
Here is a link with a photo:
http://www.bantychicken.com/OEGBCA/vmillefleur.html

Oh, and the food - they can eat any fruits or veggies that apeal to them. They love hunting for bugs in the grass too.
You guys made me chuckle...lol taste like chicken! She's a vegetarian so chances are she won't be tempted..ha ha.

It's cute as they are now just learning how to crow...like baby voices trying out cooing for the first time. Okay granted when they do learn ...she may change her mindset from that's cute to those...*^*&^ birds.

Thanks for the info Got sheep..I'll pass that info along!

Marianne