Does it mean I'm becoming an Alaskan?

So I wake up around 1 something a.m. to feed baby J and notice the race is on. It's coming to an end and the guy in the lead (lance mackey) is projected to come in second. The runner up (jeff king) is really "leading" in the eyes of everyone else including the person in the lead because his dogs are just faster. He's got like 16 or so while Lance is only racing with 11 (they dropped off along the way I think).

Jeff came in 15 minutes behind Lance during each check point along the race, but Jeff says it's on purpose. To give his dogs longer to rest, and he knew when it came time... he could catch up (which everyone agreed).

Last night the oldest trick in the book was played. Something Jeff said would never happen to him since it's only something he could pull off in his many years of doing this. Lance laid out all his stuff at the last rest point as if he was going to sleep. Definitely made it look like he was calling it a night. Waited until Jeff was snoring and SNUCK OUT OF THERE!!!!!!!! An hour lead...

What was great was when Lance was getting closer to the town, they showed him stopping to praise each one of his dogs then continued on to the finish line. Gave me a warm fuzzy to see him loving on the dogs since last year the talk was about someone hitting their dog.


How could I go to sleep when he was said to be at the finish line any second?! Knowing my kiddo wakes up at 4 a.m. and I stayed up until 3 ...and was too excited to fall back asleep, I got a feeling today will be a long day.
Hey, I would have stayed up and watched it too!!!


It sounds like a great finish - I wonder if it will air down here????

Chewie likes to watch it, as well as run. Here's a picture from when he was a puppy (8 months old) -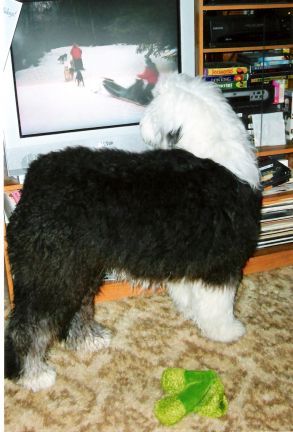 I should have known he would end up liking it!
That's what I was going to say... guess he knew a long time ago what he wanted to do
I've always loved the Iditarod. As a kid I wanted to race in it one day. Clearly that never happened...
Sneaky tactics! LOL

I love the pic of Chewie watching!
Oh, goodness, I see a Hallmark card here:

Front page: Chewie looking at TV
"How says you can't?"

Inside: Chew pulling the sled
"Live your dreams!"
It was sad to hear one of the sled dogs died
. Dawn, Chewie looks like he's trying get some tips for the future
I love the races. It is always sad when a dog dies, but they love it so much it is painful for the ones left behind. My Annie hasn't pulled a sled since her brother pasted away. When I bring out her harness she looks at me like I had better plan on putting it on myself. That is ok she is too old for it any more.
Hi,

I checked out this weeks Animal Tracks (MSN sometimes features this on the front page) and many photos are those of the race.

I can see why you didn't go back to bed. How exciting!.

How did you feel later when kiddies were up? Did you get a chance for a nap?

Marianne